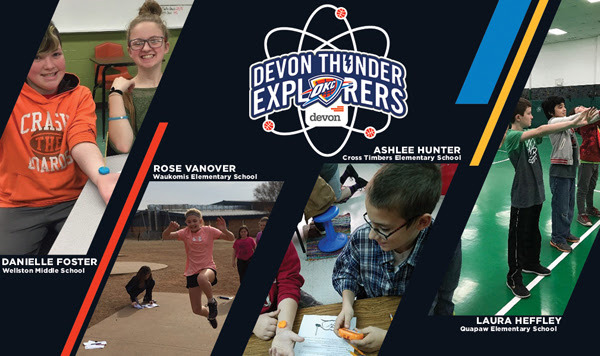 Mrs. Vanover Wins Devon Thunder Explorer Award
Brandon Bookout
Monday, April 23, 2018
We are excited to announce the four $500 prize winners for February! It is with great pleasure that the Thunder and Devon Energy recognize the following teachers for their participation in Devon Thunder Explorers:
Danielle Foster
Sixth Grade, Wellston Middle School, Wellston
Laura Heffley
Fifth Grade, Quapaw Elementary School, Quapaw
Ashlee Hunter
Fifth Grade, Cross Timbers Elementary School, Tecumseh
Rose Vanover
Sixth Grade, Waukomis Elementary School, Waukomis
Thank you to all who participated in the fifth activity and shared photos in February. GO Thunder!