Super Chiefs enjoying lunch at Mo's Place!

Mooreland HS tournament brackets for December 8th-10th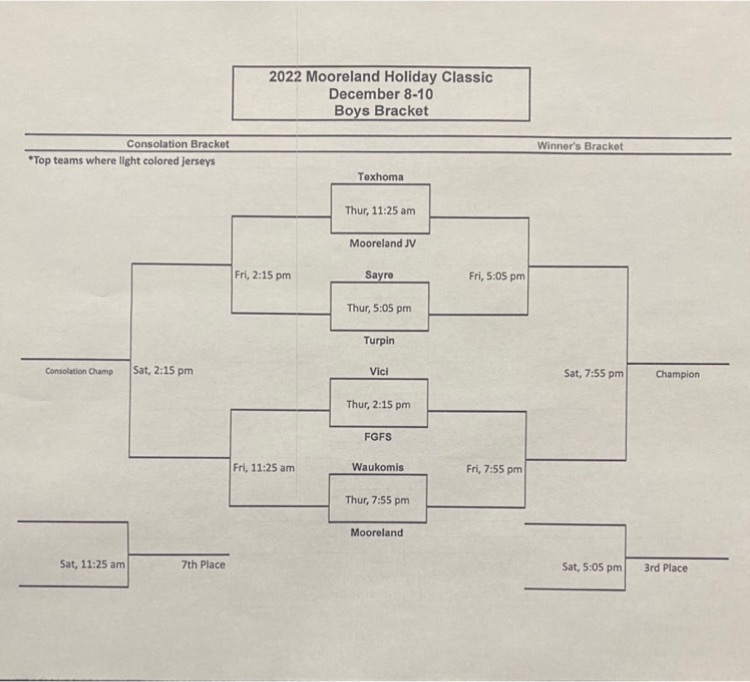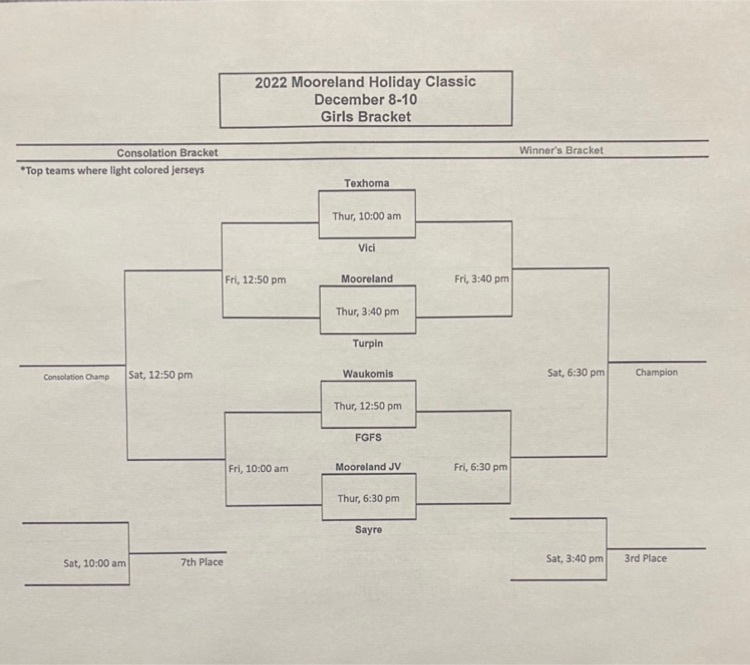 Last call for anyone wanting to attend the HS/Thunder basketball game next Wednesday in OKC against Timberlake for the Court of Dreams. You need to reach out to Coach Hicks today if you want tickets. Thank you

5/6 and JH basketball games today in Waukomis against Covington-Douglas. 5/6 grade girls game will begin at 12:30.


GOTCHA champs!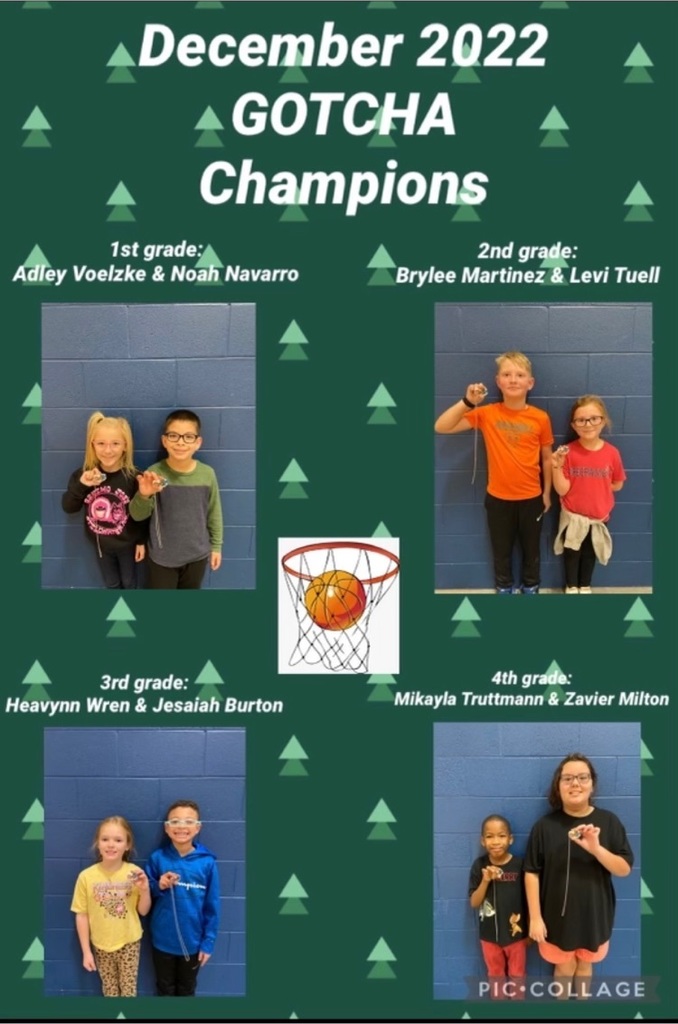 HS basketball tonight in Waukomis against Coyle. JV boys at 5:00 followed by the girls at 6:30.

Next Wednesday December 14th is the Thunder Excursion to OKC. Many students and staff are planning to attend. In order to best serve our students, we will have a virtual learning day. There will be no "in-person" learning. Your child's teacher will provide instructions on completing work for the day. 💙🤍🎄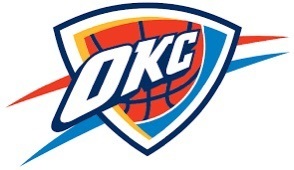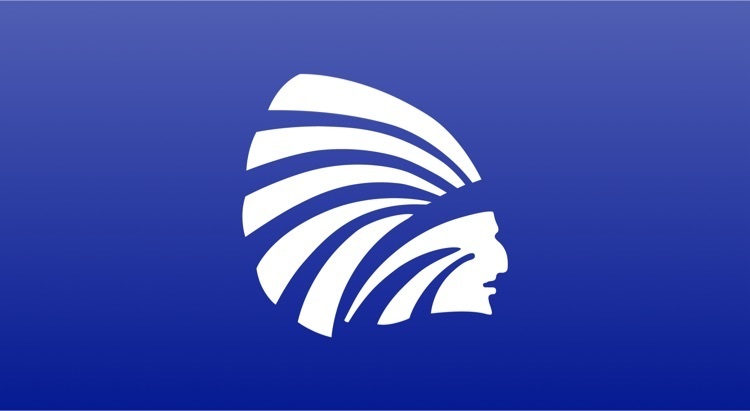 5/6 and JH basketball today in Waukomis against Okeene. 5/6 grade girls game will begin at 4:30.

Thanks to the generosity of the Town of Waukomis and Richard & Mo Anderson, this happened today: A new police vehicle dedicated solely to the purpose of protecting and serving our students and staff! Aubree Buller, a 5th grader wrote an excellent composition and was the winner of our DARE program contest. She was given the very first ride in the new Chief Police Car! 💙🤍🚓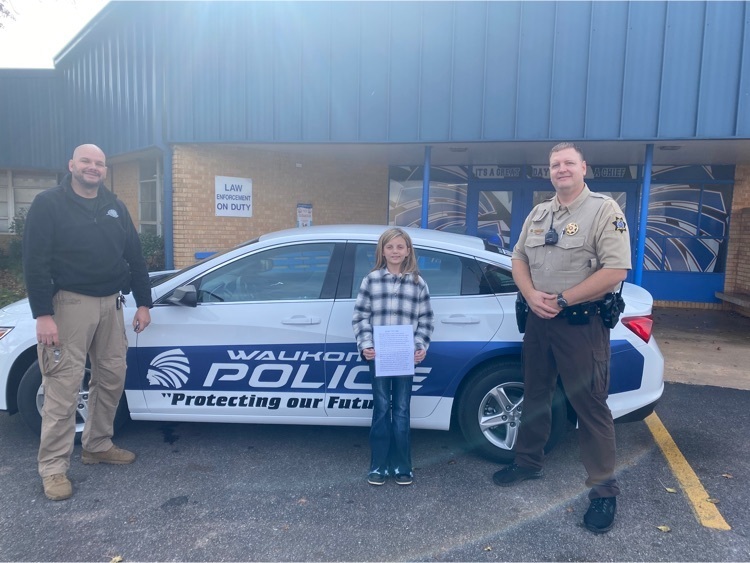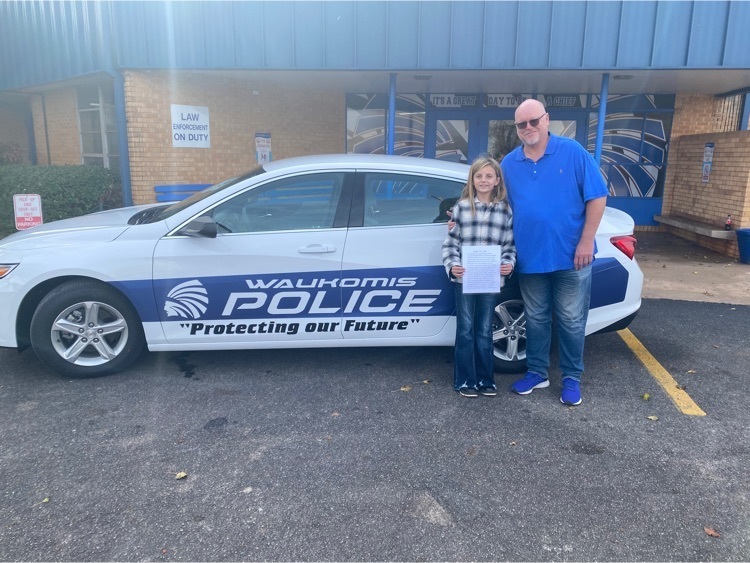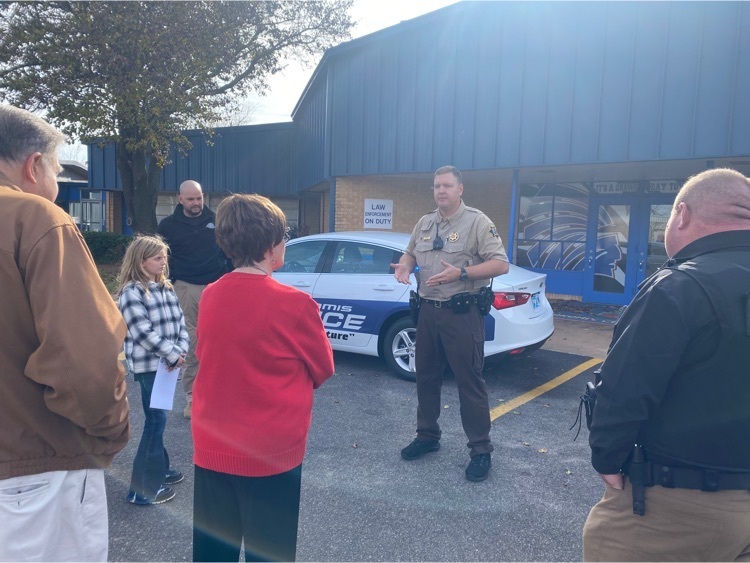 HS basketball games tonight at Covington-Douglas. Boys JV game at 5:00 followed by girls game at 6:30.

Waukomis Welcomes Christmas! December 2nd-3rd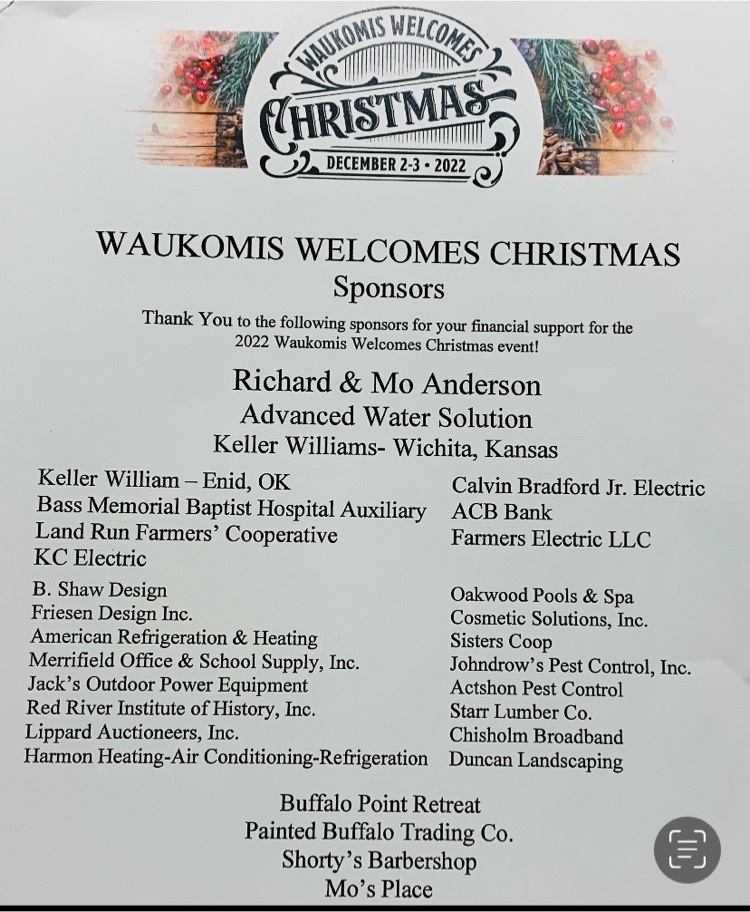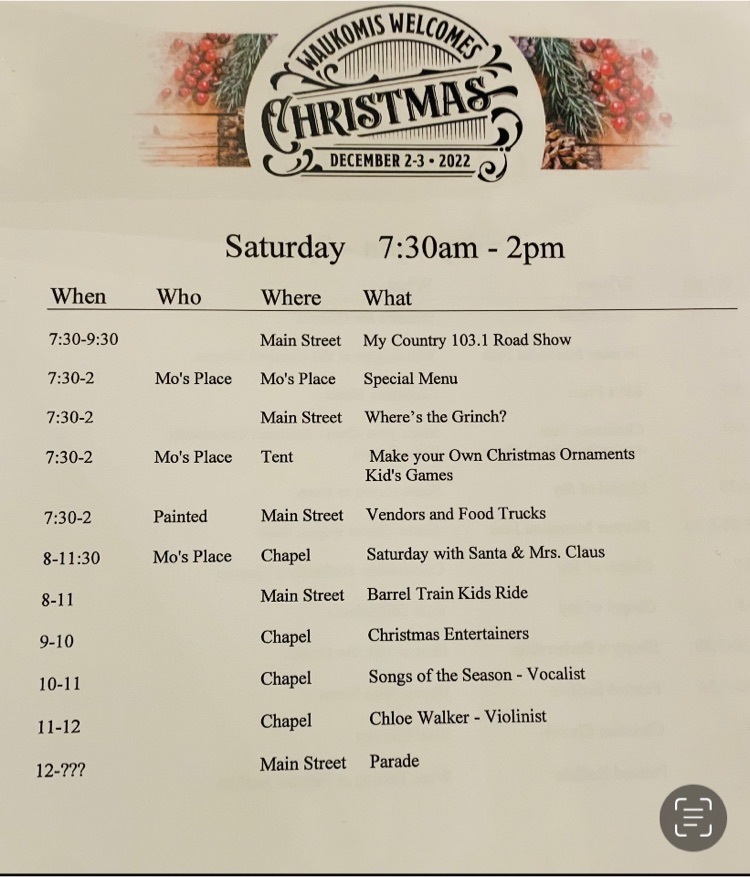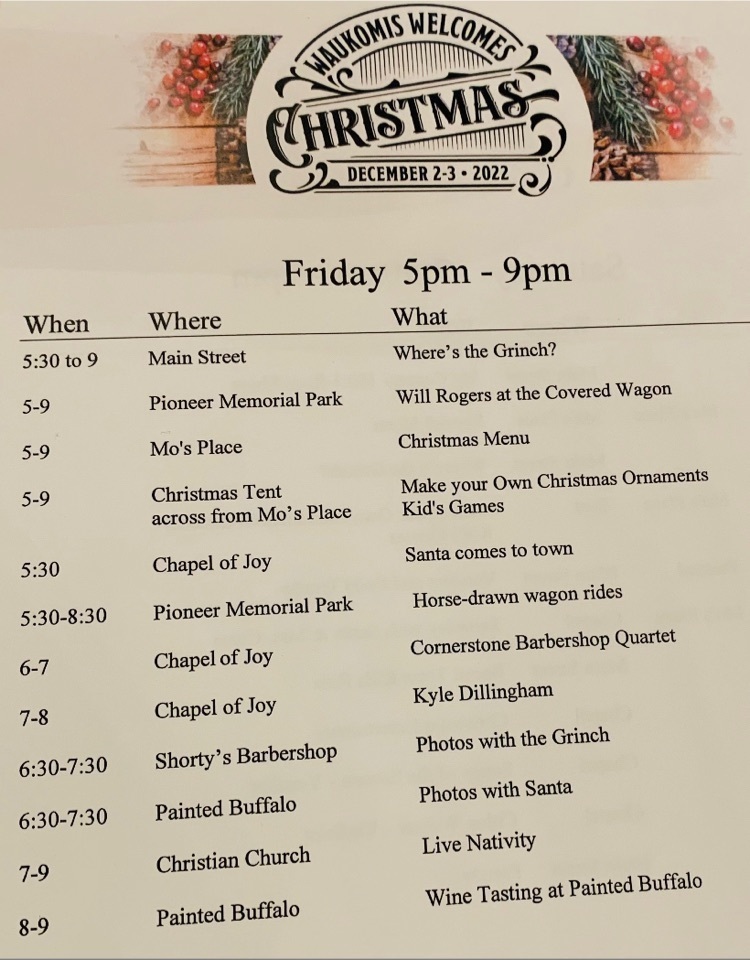 Covington is holding a spaghetti benefit dinner for Coach Daughtery's wife,Christy, who has been recently diagnosed with liver and colon cancer. The dinner will be from 5-7 tomorrow evening before the HS basketball games begin. Please come out and show our support.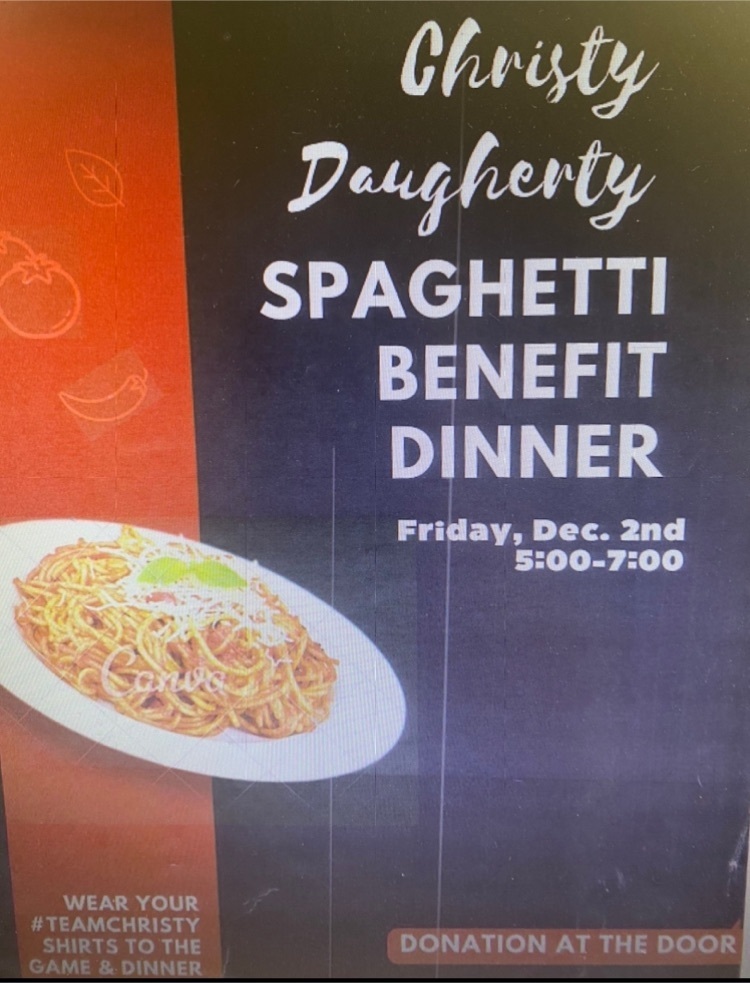 5/6 and JH basketball games today in Waukomis against Garber. 5/6 grade girls will begin at 4:30.

Elementary student council donated 565 canned goods to our local churches! Way to go!!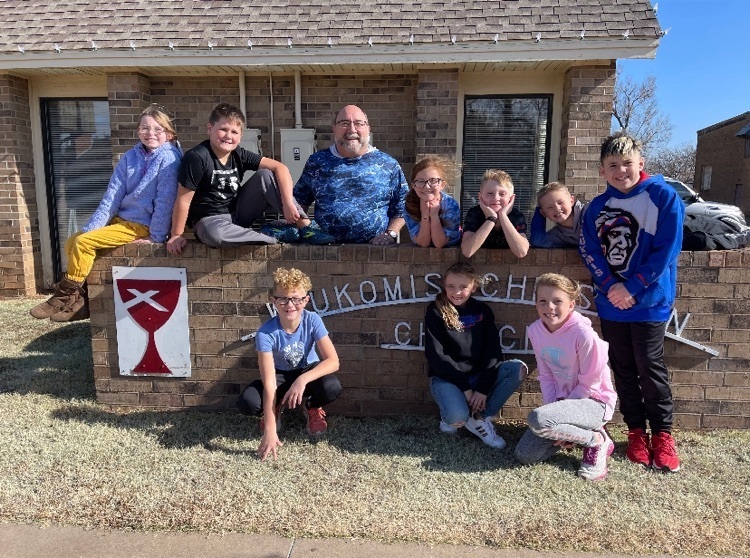 HS Basketball Parents/fans if you plan on attending these games you need to reach out to Coach Hicks so he can get tickets ordered for you ASAP! HS basketball players,cheerleaders, coaches, and managers do not need to purchase a ticket to the Thunder game on December 14. The school will get their ticket. The boys and girls HS basketball teams will play a game against Timberlake on Thunder court this season in OKC as part of their "Court of Dreams" promotion on December 14th. The girls game will begin at 12:00 followed by the boys. The deal also includes getting to go to the Thunder vs Miami Heat basketball game later in the evening at 7:00. Tickets are $20 and this will get you into the HS game as well as the Thunder game later in the evening.You can reserve tickets from Coach Hicks at school. Payment is due when reserving tickets. You can pay with cash or check.

5/6,JH, and HS basketball all day in Dover today! Games begin at 2:00 beginning with the 5/6 grade girls

High school tournament brackets for the Mooreland tournament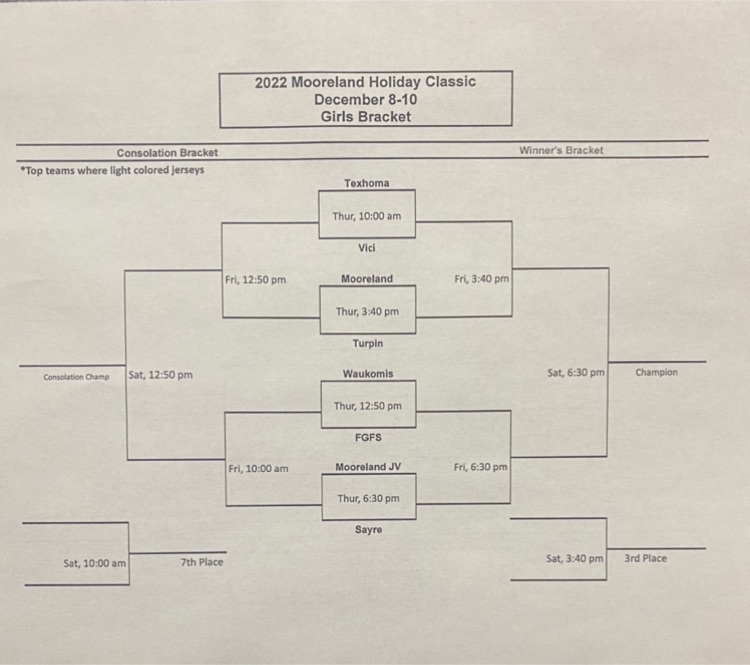 Come out and Meet the Chiefs this evening in the gym. Dinner will be served at 6:30!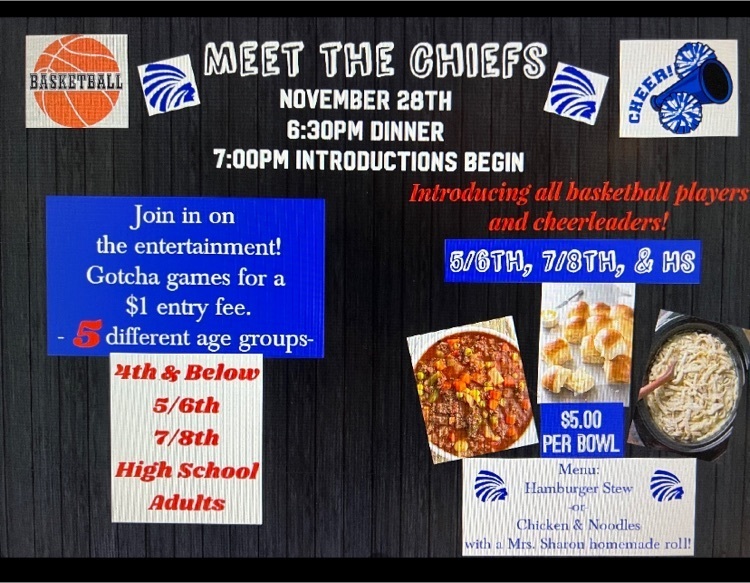 Free throw champs. Congratulations!!